People say that each business is unique, which is true. But no company would want to hold back when it comes to becoming the solution their audience is looking for. That is one of the problems that every organisation has to deal with, so it needs plans and strategies that are realistic.
Using a plan to increase traffic that comes from search engines can be more effective than other methods. SEO, on the other hand, is a long-term strategy that requires you to plan better and know how things work. You can start by making content and regularly evaluating how well it is doing.
Since your main goal is to get free traffic, you can't rely on bad planning and sloppy work. We don't want you to have that happen. Whether you want to change how your website looks or make plans for search engine optimisation, you need to know how it is doing first. It can help you avoid making some of the most common mistakes when trying to get organic traffic. These problems can be related to technical SEO, On-page SEO, website structure, content gaps, competitive analysis, and other off-site problems. Instead, we want to help you find better, faster, and more reliable ways to do things.
This post will show you how to use Semrush's features to get the most out of your SEO. Read it all the way through!
Organic Traffic: Your online presence's fuel. Organic traffic is made up of people who find your website without paying for ads. These people find your website by using a search engine like Google, Yahoo, or Bing. There are many reasons to go with an organic traffic strategy, like getting more clicks and more authority for your site. Let's learn how to use Semrush to bring in more organic traffic.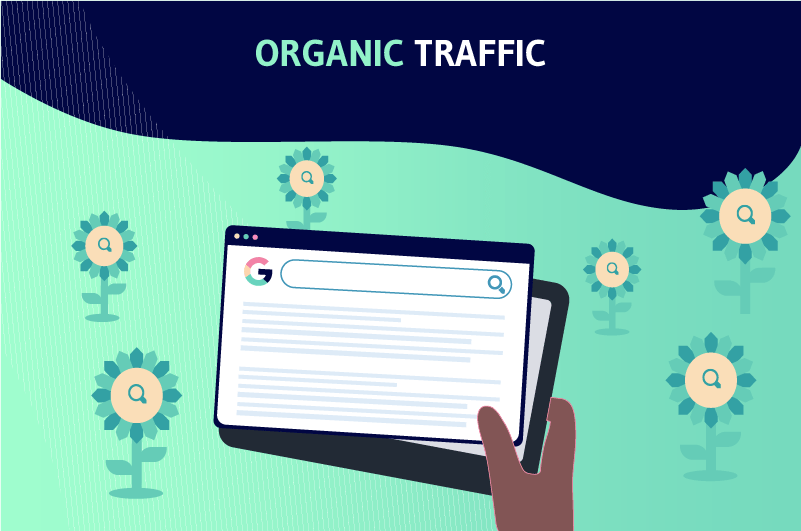 1. Audience Research
Audience research is a term that tells you exactly what it means: find out about the people your business wants to reach. If you don't know who you're trying to reach or what they like, it can be hard to find the best content or product for them. The first thing you can do is use Semrush's traffic analytics, which is one of its features.
You can move on to the audience insights tab once you get to the traffic analytics features. This feature can help you compare the audience of different sites and find out who your customers and your competitors' customers are. You also find out more about users you haven't talked to yet. The feature makes it easier to find out about the people who visit your site, which will help you boost your organic traffic in the long run.
2. Keyword
You need to find the keywords that will help you target your audience and find out what they are looking for. Semrush Keyword Research can help you get more out of it. One of them is knowing how to do a keyword gap analysis, which shows you the keywords that your competitors have but you don't. You can change your plans to catch up if you know how far behind you are. By the way, did we mention that Semrush also has a tool that can help you figure out the keyword gap?
Then there are "long tail" keywords, which are phrases that are longer than the most common ones. Even though they get less search traffic, they are more targeted and have a higher conversion rate. So, don't forget to look at long phrases the next time you do keyword research.
3. Content
Content is a key part of your organic traffic strategy and an important part of your SEO strategy. You should share the content that adds value, as it is more likely to rank. Before that, you need to make a plan for your content needs. Since you need to get known, you can use a hub-and-spoke model or something similar.
If you have two pages on your website that have the same information, you should merge them. You should also make sure that your website has new content. Semrush has a number of content marketing tools that you can use to plan, create, optimise, and audit your content.
4. Site Audit
Whether you want to change how your website looks or make plans for search engine optimisation, you need to know how it is doing first. It can help you avoid making some of the most common mistakes when trying to get organic traffic. These problems can be related to technical SEO, On-page SEO, website structure, content gaps, competitive analysis, and other off-site problems.
You can contact Semrush for a site audit for many other reasons. They include changes to algorithms and webmaster tools, old content, and a lot of other things. At least 130 of the most common mistakes can be found on this platform. Don't forget that you need to do SEO audits to keep your SEO strategy up-to-date.
5. Competitors Analysis
Competitors analysis helps you learn what your competitors do well and what they could do better in their businesses. It also helps you figure out where your marketing and business are falling short by letting you compare yourself to other companies. Through SEO competitor research, you can find new ways to reach your audience.
Semrush can help you find out what other businesses are doing, which is important right now. You can use the Market Explorer tool for more than just finding your main business rivals. It can tell you about your organic search competitors, how they do SEO, and what links they have. There are many other tools that can help you get more traffic from search engines.
6. Social Media Marketing
If you use search engine optimisation on your social media platforms, you can get more people to see your brand. By doing this, you can spread your content far and wide, which can boost your reputation, visibility, and traffic. Now, let's talk about how to get organic traffic by using social media marketing. You need to update the posts, make content based on what's popular, and make infographics that are popular on social media. When you post on these sites, don't forget to share links to your blog.
At Semrush, you can find a social media toolkit that makes it easier to run campaigns, make, schedule, and share content. Social media marketing can help your website's organic traffic in a roundabout way and in the long run.
7. Guest Blogging
When you do guest blogging or guest posting, you post a blog on someone else's website. The guest post and the site from a third party are both in the same niche. This strategy can help a website get known and be seen as trustworthy. Aside from that, your site can get more visitors and backlinks, and you can connect with people in your industry.
Semrush has many features that can make guest blogging easier for you. You already know that it has tools to help you find keywords and come up with ideas for content. It also has a tool that lets you see how well your content is doing. This feature can help you put all the metrics for how well a piece of content is doing in one place, find good publishers, and find out what content is doing well.
8. Email Marketing
As you can see, email marketing is about using emails as part of your marketing efforts. It's a mix of digital and direct marketing that lets you tell your customers about your newest products or deals. Like social media marketing, it doesn't have a direct effect on your SEO strategy, but you can still use it to bring people to your site.
Email marketing has the potential to bring in qualified traffic, get people more involved, and put the focus on content that is relevant. Getting back to what Semrush does, one of its tools, Marketing Campaign, can help you keep an eye on your campaign. You can share the calendar with the other people on your team, plan activities, and keep everyone up to date. It has a UTM tag that stores information like your bounce rates.
9. Link Building
Getting backlinks, or links from other sites to yours, is part of building links. It is a useful tool if you want your site to get a lot of free traffic. And to do this, you need to put it all together with content that adds value, SEO on the page, and a better user experience.
We are going to Semrush now. You need to link your website to high-authority sites, and the Backlink Analytics tool can help you figure out which sites are good authorities. It can also tell you about broken backlinks and tell you what your competitors do to build links. Semrush's link-building tool can be helpful when you have to reach out to sites you want to link to you.
10. Alt Text
Alt text, also called "alternative text," is the written copy that shows up instead of a web page or image if it doesn't load. Alt text helps make the user's experience better. At the same time, it helps search engine crawlers figure out what the page is about, which will help increase organic traffic in the long run.
Let's talk about how Semrush can help with alt text now. You wouldn't want to skip adding the alt text because you know how important it is. At the same time, you need to find the missing alt text and fix it. When you use Semrush's audit tool to do a site audit, you can see which alt text needs your attention.
Conclusion:
If you have a lot of organic traffic, it means that your SEO practises are working well. It helps you be successful online and makes sure that you are one of your potential customers' top choices. There are many things you can do to get organic traffic to your site. You've learned here what you need to do to make your website rank higher on search engines without paying for advertising.
Start by collecting demographic information about your audience, keep your site up-to-date with new content, and check for and fix any mistakes on your site. Pay attention to the keyword gap and long tail keywords when you do keyword research.
Semrush is an all-in-one tool for digital marketing that can help with all of these things. From researching keywords with Semrush to doing a site audit, it can help you find ways to get more organic traffic.